Customers often come to us with a unique idea or sample photos for a custom project. The "X" infill cable railing in this post is a perfect example of one of these projects; also something we hadn't previously seen. This particular build required custom fabrication throughout the construction process. Our company fabricated the wooden components of the railing system; a white oak railing frame and X style infill with a clear coated finish. Stainless steel cable assemblies and hardware were provided by San Diego Cable Railings. Here are some of the other project details: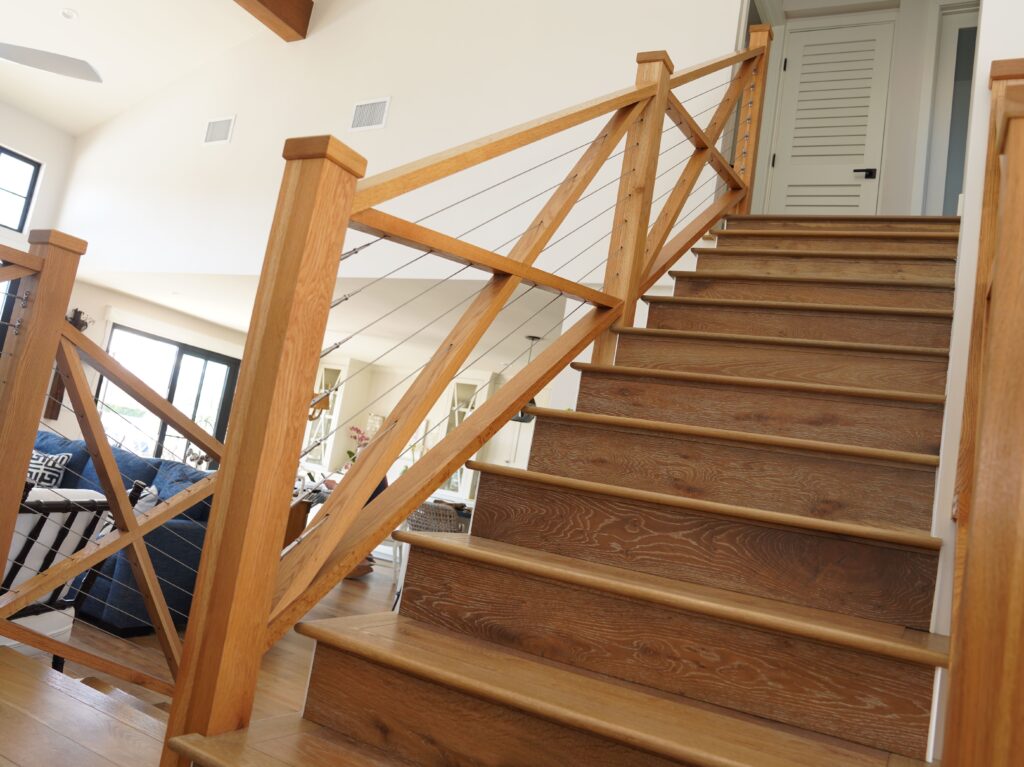 Our customers provided us with photographs of a similar railing; however in the sample photo the cables were strung on the outside of the "X" infill pattern. It was requested by the general contractor that the cables travel through the infill which made the build more challenging; however the finished results were well worth the effort.
The railing posts were called out at a net 4″ thickness; to be made from white oak. White oak was not available at the time in 4″ material so we laminated the posts from 3 pieces of white oak prior to finish and drilling for stainless steel cable assemblies.
The "X" pattern infill made it nearly impossible for us to do all of the fabrication in the shop; some of the wooden members were field fabricated and many of the cable perforations were drilled on site as well. Compound angles created by the X pattern made for a tricky cable installation.
We custom fabricated a stainless steel post mount (top photo, lower run) for one of the bottom stair posts; because the tread depth did not allow for standard post mounting to the stringer. It's very important to have solid connections; especially on end posts carrying cable loads.
A clear coat finish was applied to the white oak timber railings after installation. This is a durable and attractive way to protect interior finishes; accenting the grain patterns and colors. A build up of several coats is recommended and will protect the wood from heavy traffic and use.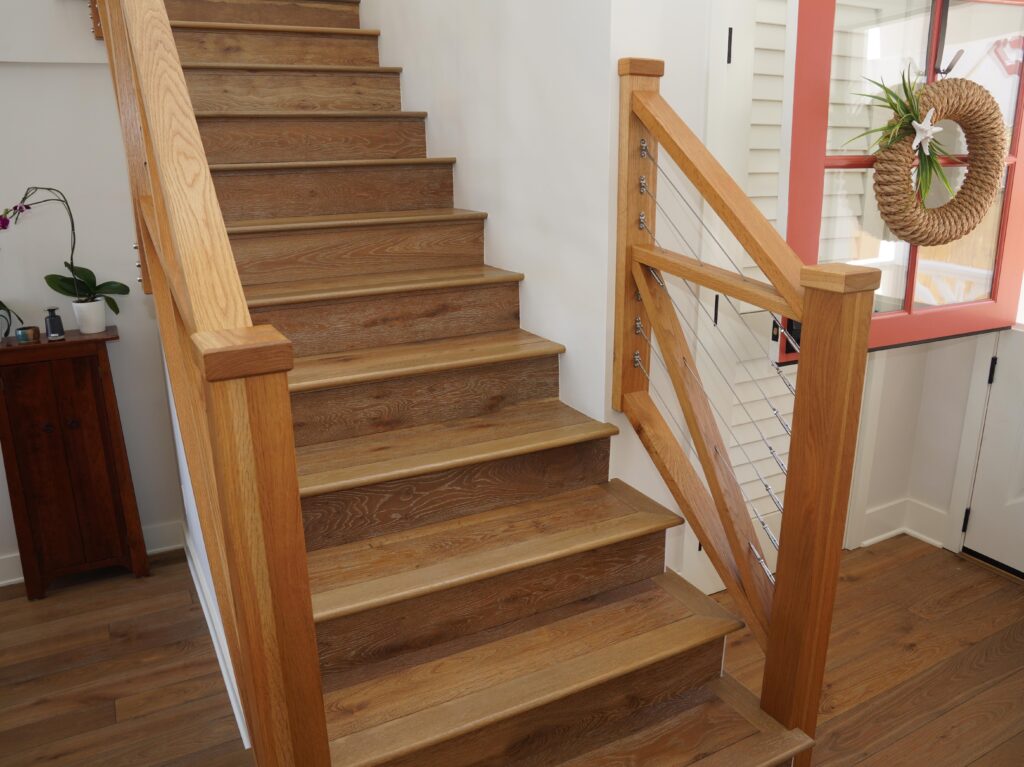 Custom Railings and Expert Craftsmanship
Custom projects that require out of the box thinking and expert craftsmanship are a staple for us at SD Independent Construction. Decades of construction and fabrication experience set us apart from our competition. If you have questions about the x railing with stainless cable, or another remodeling project ; visit the CONTACT page for information and pricing.