Our company has history of installing stainless steel cable railings that spans almost two decades. Before they existed as "cable railing systems" in any lumberyard or retail outfit; we were fabricating them from sailboat rigging hardware. We all but abandoned picket railings and began installing stainless cables on almost every deck we constructed. As the popularity of our cable railing projects increased, we began moving their minimalist aesthetics into interiors. Even when well known local suppliers and designers were saying no, our customers were saying YES to cable railings. Retrofitting interior stairways and interior cable railings have become almost 50% of our present day cable railing installation volume. Even when complex angles and difficult building conditions exist; we can usually find a way to install cable.
Hundreds of Successful Cable Railing Installations
Because of our high level of experience with all types of wire railing systems, some of our jobs have taken us as far as Northern California. We have installed cable railings at amusement parks, hospitals, shopping malls, public works projects, pedestrian bridges and military bases. Our owner has written articles for several magazines and trade publications and as a company we have contributed to writing cable railing standards for several California municipalities.
We prefer to perform custom cable railing installations utilizing a variety of framing materials; railing frames can be fabricated using almost any structural building media available. When it comes to coastal exposure and salt air; material selection is of the utmost importance. A typical cable rail installation may include stainless steel or hardwood railing posts, stainless steel cable infill, and wooden, steel or composite top railings. We have passed countless building inspections in California utilizing all types of wire railings, and we have a thorough understanding about the structural considerations and code requirements involved with cable railing systems.
Experienced Feeney Cable Railing Installers in Southern California
Many of our clients need to preserve spectacular views while maximizing their outdoor living areas. Stainless cable railings are a great solution and a very effective way to create a safety barrier without disrupting the existing landscape. For customers interested in aluminum framed cable railings; we have years of specialized experience installing products by Feeney Inc. As a company, Feeney has been doing cable railings for over 50 years, and also offers glass railing systems. The clean lines and durability offered by these railing systems is unmatched by competing aluminum railing systems. Feeney products are engineered and have been used on many large scale high profile projects Nationwide.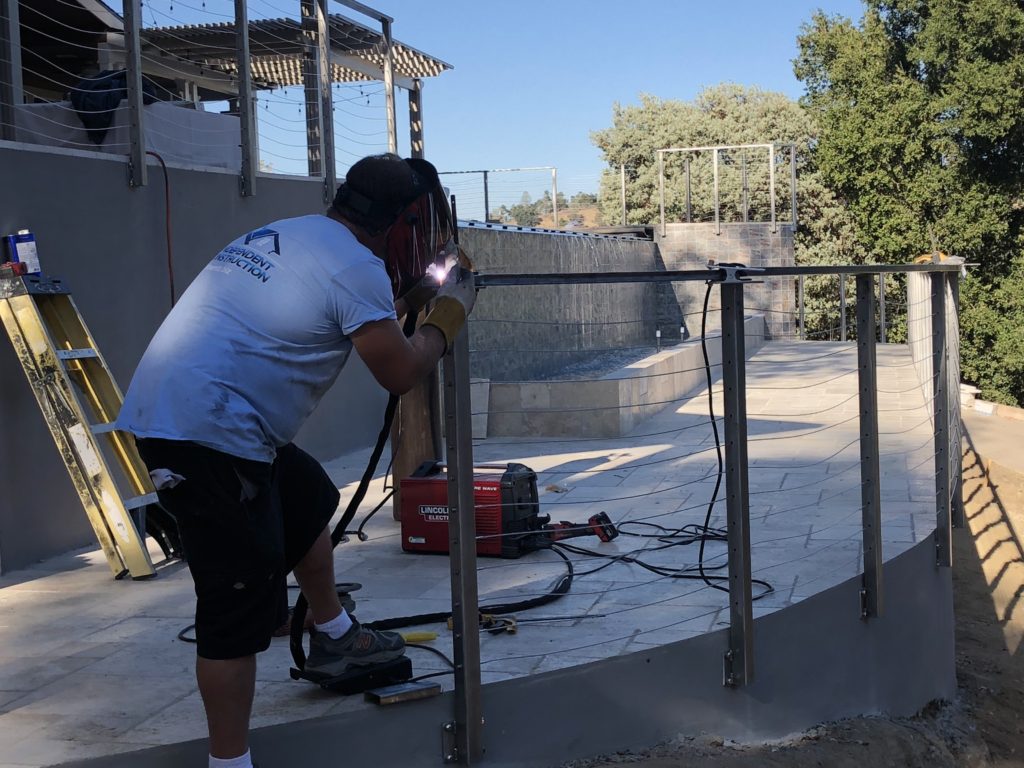 Preferred Railing Contractors and Installers for San Diego Cable Railings
Our cable railing installation services have stretched to some far away places up and down the coast of California. We have performed cable railing installations in Orange County, Los Angeles, Santa Barbara, San Louis Obispo, and San Francisco. Our company has been the preferred installers for San Diego Cable Railings since 2015. San Diego Cable Railings is a local retailer of cable and glass railing systems, as well as a Nationwide distributor of these railing systems.
A bit of info about Marine Grade Stainless Steel :T316 marine grade stainless steel is one of the most corrosion resistant metals available. Stainless steel cable has been used in the marine and aviation industries for years. Customers should consider environmental conditions and proximity to salt water when selecting exterior building materials. We have replaced MANY substandard railing systems because of improper material selection.
Cable Railings are Code Compliant– Contrary to some online publications and discussions, cable railings ARE legal in San Diego and most of California. Cable railings satisfy building code standards for residential decks and railings. Stainless cable also works great for hillside fencing projects; or retrofit railings on existing decks. Most building departments have adopted cable railings due to safety and the tremendous popularity and demand for minimalist aesthetics.