For Durability and Aesthetics, Nothing Beats a Cable Railing
At SD Independent Construction we have been installing stainless steel cable railings for over a decade. We provide cable railing installations utilizing a variety of framing materials, and when it comes to coastal exposure material selection is of the utmost importance. For our stainless cable railing projects we offer quality cable railing systems provided by San Diego Cable Railings. Typical cable rail installations include stainless steel or hardwood railing posts, stainless steel cable infill, and wood or composite top railings. We have passed countless building inspections utilizing these types of wire railings and understand the structural considerations and code requirements involved with cable railings.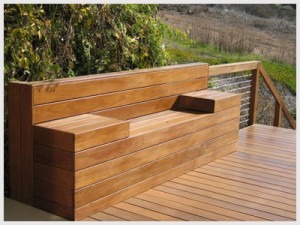 Many of our clients need to preserve spectacular views while maximizing their outdoor living areas. Stainless cable railings are a great solution and a very effective way to create a safety barrier without disrupting the existing landscape. T316 marine grade stainless steel is one of the most corrosion resistant metals available. Stainless steel cable has been used in the marine and aviation industries for years. The price point on stainless steel cable is many times more cost effective than glass railing systems, and there is less maintenance with no glass to keep clean. Contrary to some online forums and discussions, cable railings are legal in San Diego, and do satisfy building code standards for residential decks and railings. Stainless wire also works great for hillside fencing projects; or retrofit railings on existing decks. Most counties have adopted these railings due to increasing popularity and demand.
Professional Installation of Stainless Steel Cable Railings
Our cable railing installation services have stretched to some far away places because of our extensive experience. We have performed installations in Orange County, Los Angeles, Santa Barbara, San Louis Obispo, and San Francisco. For online products, pricing and information about cable railing products, or to obtain a quote for cable railings please visit www.sandiegocablerailings.com