A base shoe glass railing system offers spectacular transparency with a frameless aesthetic known as a "shoe". Base shoes are typically made of heavy aluminum channel which is most commonly top mounted to the deck surface. The shoe or "boot" component of the railing can be exposed and visible or recessed into the deck surface for a completely frameless design. Frameless glass is an awesome way to preserve coastal views and provide a wind break while enjoying outdoor dining.
Installing a Frameless Glass Deck Railing
One of our most recent glass railing projects in San Diego was a newly remodeled home in Clairemont; overlooking Mission Bay. Our customers selected a frameless glass system for the clean aesthetic and unobstructed views. The railing system in the project photos is a non clad aluminum base shoe and 9/16″ tempered laminated glass. We used a "taper loc" shoe which accommodates the laminated glass panels nicely without the need for grout.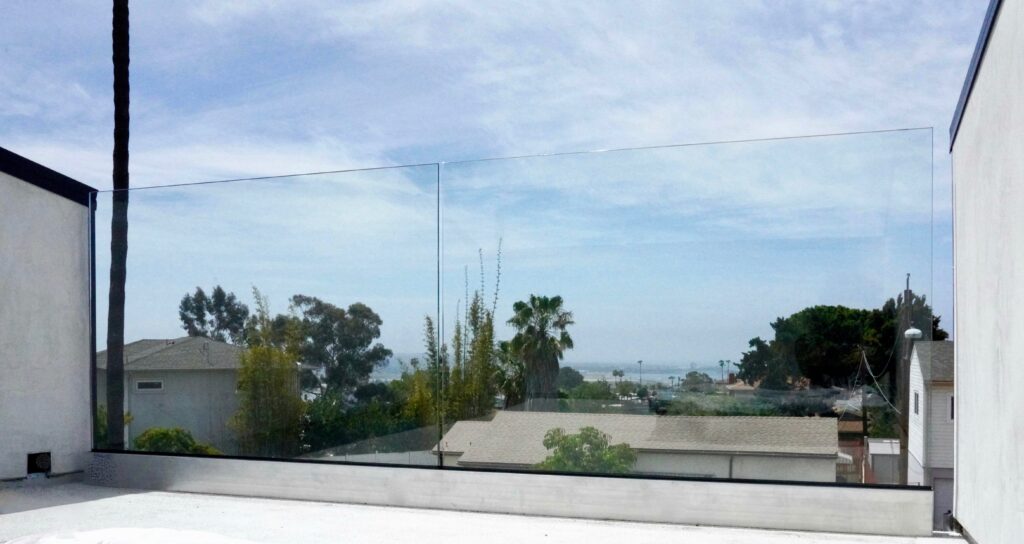 San Diego Glass Railing Codes
California code requires all glass railing systems without a top rail to utilize laminated tempered safety glass. In the event that breaking occurs, a laminated panel adds extra security and prevents falling glass. Any glass railing that is overhanging a walkway is also required to have laminated panels.
In addition to base shoe glass systems our company installs framed glass options as well as post and clip systems. Aluminum framed glass railings will typically utilize a bottom and top rail as well as aluminum channel to secure glass panels. Framed glass railings allow for the use of non laminated glass as well as lighter glass panels in some locations.
Base Shoe Finish Options
There are a number of clad and non finish options available for shoe mounted railings; popular choices include:
brushed stainless steel
antique bronze
satin nickle
mill finished aluminum
San Diego Independent Construction has been providing high quality custom remodeling services in Southern California since 2003. Our highly specialized team has constructed hundreds of exterior decks, railings and fences. Customers interested in base shoe glass railing systems can submit information via the quote request page for pricing and additional information.