Custom Interior Stair Railing Projects by SDIC
Fabrication and installation of modern interior stair railings has become a staple for our company in recent years. The popularity of cable and glass railing installations inside of the house has grown tremendously. A modern stairway or entryway can remove decades from the appearance of an older home; additionally increasing resale value. Here are a few samples or our interior railing projects:
Quality Craftsmanship and a Passion for Detail on Every Project
Grab rails, pony walls, custom wall caps and stairways provide a variety of options for modern improvements and attractive upgrades. An existing stub wall or old fashioned iron railing does not prevent you from the ability to transform your space with modern materials like stainless cable. Our experienced craftsman can transform entire spaces by removing partitions, adding electrical and lighting, and other necessary alterations prior to installing new railings.
Stairway construction requires careful planning and calculation to achieve spectacular results. Our company has been constructing interior and exterior stairs and stair railing systems since 2003. The exterior stairs and open stringer pedestal system (featured photo below) is an example of the complexity of a modern stairway. For this project we fabricated solid hardwood treads and heavy timber stringers. A composite skirted pedestal breaks the runs and the railing is a hybrid stainless steel cable and Ipe' hardwood combo.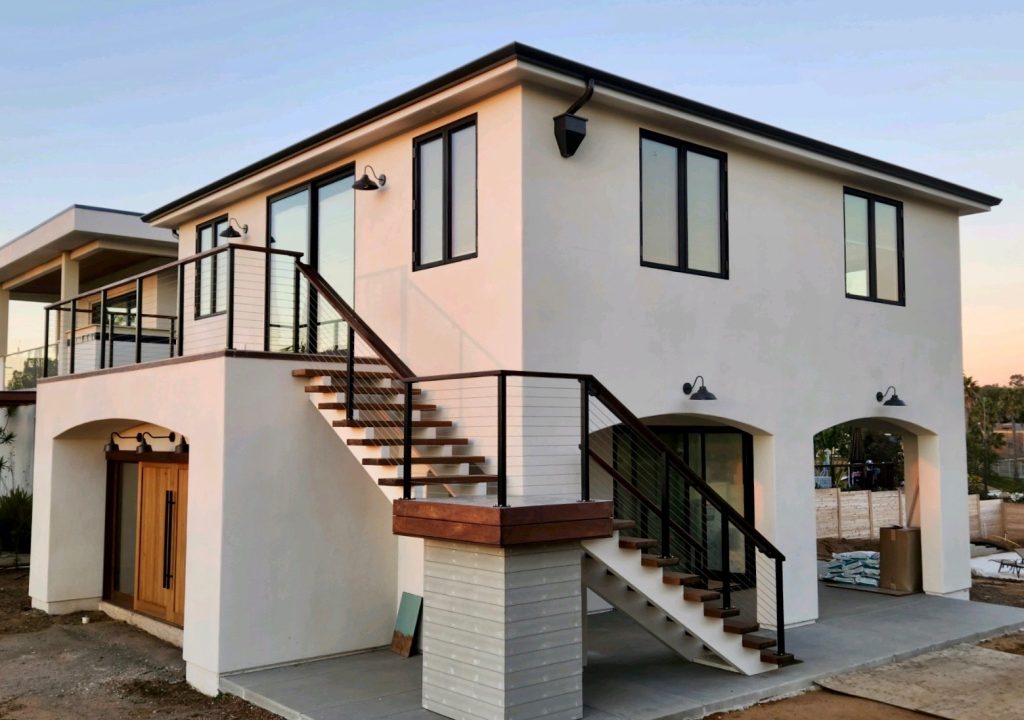 For many years we have been the preferred installation contractors of products made by San Diego Cable Railings. SDCR is a company specializing in the distribution of stainless cable railing systems. They offer a variety of engineered cable railing products that satisfy current industry standards.