The Hardest Wood On The Planet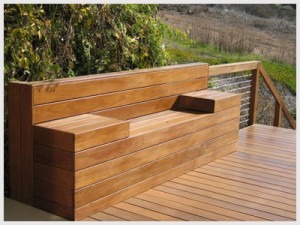 Ipe' (eepaay) is a member of the Ironwood family and a top choice among decking professionals. Hardwood decking is beautiful, durable, and sustainable when purchased from reliable vendors.
Ipe has been called the hardest wood on the planet and Ipe decking can last up to 30 years without any stain or sealer. When properly maintained, Ipe can last up to 100 years. It carries a rich brown color with good variation when finished. Unfinished it weathers to a silvery grey color much like weathered teak.
As a company we have performed 100s of hardwood decking installations. We prefer Ipe to some other hardwood varieties because it does not have the tendency to bleed like many other south american species of hardwood.
Special tooling, fasteners, and techniques are required when working with hardwoods such as Ipe. Ventilation, finish, concealing end grain, spacing, and fastening methods are all necessary considerations for a successful hardwood decking installation. All of our hardwood decking installs start in our wood shop, where we prep sand and seal the hardwood on all sides before it ever reaches the job site. All of the decking timbers we u
se are hand selected with care and a trained eye.
As a company we prefer using hardwood decking to softwoods and we have utilized in excess of 100,000 feet of hardwood decking. We have also used Ipe for hardwood fencing, railing, and cable railing installations. We have even constructed arbors and patio covers with this amazing natural material. Ipe hardwood is the most durable, longest lasting, outdoor building product available. Of any wood species, it is also our first choice in combination with stainless cable rails for maintaining cable tension. The hardwood railings actually behave like steel. When it comes to hardwood installations, it pays to use a specialist; and all woods are not the same. Some examples of hardwood installations: